A Crystal Healing Retreat 
Embark upon a restorative journey with crystals. Judy will begin with gentle asana, pranayama, and end with a laying of stones during yoga nidra (a deeply relaxed guided meditation). It has profound impact and causes a paradigm shift, from thinking and doing to feeling and being, dropping beneath the mental and emotional activity.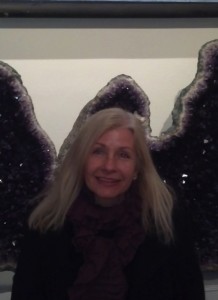 Crystals are a powerful addition to your healing and stabilizing practices. No two crystals are alike. Each crystal has a unique healing property derived from the minerals from which it is composed. The action of crystals may be described as subtle; they are capable of amplifying, focusing, directing, absorbing, defusing and transmitting different levels of healing energy. Crystal healing has been used since the dawn of the human race. It is a fact that crystals have many tiny electrical impulses which activate the human bodies neurological system. Different crystals possess their own unique energy signal, producing different effects.
Crystal healing is the art of laying stones in coordination with the bodies energy Biofield, energy centers and energy pathways. These aspects of the bodies energy field are also known as the aura, the chakras and the meridians. Correct placement of crystals on the body will promote emotional, physical and mental harmony. It is in this state that the body experiences perfect conditions to heal naturally. Travel deep inside your physical and energetic bodies as we cleanse and clear out energy that no longer serves us. Revitalize yourself from within and live your highest potential.
Our instructor Judy discovered the unique healing and rejuvenating effects of yoga beginning her personal practice 22 years ago. Judy is a certified yoga instructor, receiving her teacher training from Master teacher Ranjitha Sandeep's yoga sutra for life. She has completed Reiki levels one, two, and master teacher practitioner. She is also certified in qi gong intensive healer training and qi gong therapist course. Judy took teacher level course with Grandmaster Tzu and is certified to teach qi gong healer intensive courses. Judy is also a certified crystal practitioner. With a passion for living, loving, and sharing Judy continues her studies.